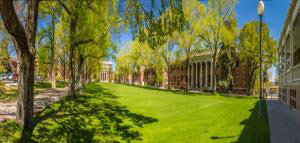 The mission of the UNR School of Social Work is to prepare effective, ethical social work leaders and practitioners who-with a deep and abiding respect for cultural diversity and human strengths-challenge injustice and promote a more humane world through the development and delivery of evidence-informed practices, policies, and programs. Our mission is achieved through education, research, and public service endeavors that reflect the unique mixture of urban, rural, and frontier characteristics of Nevada in the context of a globalized society.
Advanced Generalist Practice
LEADERSHIP, AUTONOMY, COMPLEXITY
The UNR School of Social Work offers both BSW and MSW degree programs, and in Fall 2016 began offering an online MSW program. The Advanced Generalist Practice (AGP) specialization prepares graduates to address questions, issues, and problems across methods, systems, and fields of practice.
Upon completion of their degree, students must demonstrate each of the nine competencies outlined by the Council on Social Work Education:
Demonstrate Ethical and Professional Behavior
Engage Diversity and Difference in Practice
Advance Human Rights and Social, Economic, and Environmental Justice
Engage in Practice –informed Research and Research-informed Practice
Engage in Policy Practice
Engage with Individuals, Families, Groups, Organizations, and Communities
Assess Individuals, Families, Groups, Organizations, and Communities
Intervene with Individuals, Families, Groups, Organizations, and Communities
Evaluate Practice with Individuals, Families, Groups, Organizations, and Communities
Field Education Program
Field Agency
The School of Social Work affiliated with field setting whose policies and services are consistent with the School's missions and goals. Each prospective agency must complete an Agency/Setting Application and Field Education Agreement.
Responsibilities
Provide practice opportunities through in-person contact with clients & constituencies
Provide interdisciplinary training opportunities
Interview students prior to placement
Provide qualified staff who meet Field Instructor qualifications
Provide instructional staff with workloads adjusted to assure adequate time to meet the learning needs of
students and to complete requirements such as the Learning Agreement, site visits, and Assessment of
Student Performance
Agree not to use students in place of regular staff
Agree to abide by stipend/paid practicum agreements if paying students during the field placement
Provide the physical space necessary to accommodate student(s)
Provide necessary field setting-based orientations and training (i.e. policies, procedures, safety,
communication, professional expectations, computer programs
Operate in compliance with all pertinent federal, state, and local laws and policies
Field Instructor
The selection of Field instructors is based on their potential to design and supervise field learning opportunities consistent with the program's mission and for students to demonstrate core competencies. Each prospective field instructor must complete a Field Instructor Application.
Required Qualifications
Two or more years of post-social work degree practice experience in social work
Preferred Qualifications
Employment or affiliation with the field setting for at least six months.
Possession of the appropriate, valid professional social work license when appropriate
Completion of the Field Instructor application form (see website for forms)
Agreement to participate in the Field Instructor Orientation and subsequent training and meetings as appropriate
Responsibilities
One-hour weekly face-to-face supervision
Mentorship and consistent guidance to ensure overall safety and effectiveness
Learning Agreement development and oversight
Evaluation of student performance.
The field education program is a central component of the MSW program, systematically designed to provide students with opportunities to practice and demonstrate the core competencies through in-person contact with clients & constituencies. The "field practicum" is a 450-hour structured experience that is comprised of these practice opportunities, generally consisting of two days per week totaling 15 hours each per academic semester.
The University of Nevada, Reno (UNR) is one of eight institutions within the Nevada System of Higher Education. The University system was established in 1864, the year of the state's admission into the Union, but because of the state's small population, wasn't able to offer courses until ten years later. The first classes were offered by the University in 1874 in Elko as one of the rare preparatory schools in the intermountain region. In 1885, the University was moved to Reno, near the center of the state's population, and it has flourished since its first year of formal college-level study in 1887.
A constitutionally established land-grant university, UNR emphasizes those programs and activities that best serve the needs of the state, region, and nation. UNR seeks to provide broad access to higher education irrespective of wealth or social status; to educate the professional cadres of an industrial, increasingly urban society; and to strengthen democracy by assuring the welfare and social status of all.

Approximately 18,000 students currently attend UNR. While the majority of students are undergraduates, the University has a sizable graduate student population of approximately 3,000. Students come from all over the state of Nevada to attend UNR. Additionally, UNR's reputation attracts many students from throughout the United States and the world.
UNR offers 70 bachelor degree programs, 59 master degree programs, 34 doctoral degree programs, and boasts 9 separate colleges. UNR is accredited by the Northwest Association of Schools and Colleges and is ranked as a Carnegie 1 research institution.
The School of Social Work is housed within UNR's Division of Health Sciences (DHS). DHS also houses the School of Medicine, the Orvis School of Nursing, and the School of Community Health Sciences. DHS is also home to Campus Wellness and Recreation, Center for Application of Substance Abuse, Sanford Center on Aging and the Center for Program Evaluation, and the Nevada Center for Health Statistics and Informatics.
The University of Nevada, Reno is an Equal Opportunity/Affirmative Action employer and does not discriminate on the basis of race, color, religion, sex, age, creed, national origin, veteran status, physical or mental disability, or sexual orientation in any program or activity it operates.
Campus and Surrounding Area
The University is an integral part of the thriving Reno-Sparks metropolitan area. The 290-acre campus of rolling hills features a blend of ivy-covered buildings, sweeping lawns, and functional, progressive architecture. The campus is located less than one mile from downtown Reno, and offers a spectacular view of the surrounding community and nearby mountains.
Reno is situated prominently in an attractive natural setting. Bounded on the west by the majestic Sierra Nevada range and on the east by the rolling basin range, Reno benefits from a comfortable climate. Marked by generally cool and dry weather, the area is a haven for those who love the four seasons. The area provides endless opportunities for outdoor recreational activities, including skiing, hiking, boating, fishing, camping, kayaking, and biking. Additionally, the area attracts nationally renowned performers and offers several museums.